Christian Community Action
Faith has committed to partnering with local organizations to better serve this community. We are proud to stand alongside CCA and offer our time and resources to meet needs in the name of the gospel of Jesus Christ.
CCA NEWS
CCA Food Pantry
We are committed to helping stock the food pantry all year long. There is a brown basket in the rear of the Gathering Place to place your donations.
JANUARY – Stock Your Favorite Canned Food (bring your favorite canned goods to stock the pantries of CCA families))
FEBRUARY & MARCH – Paper Goods (toilet paper, paper towels, and Kleenex)
APRIL& MAY – Hygiene Products (Shampoo, Soap, Toothpaste)
JUNE & JULY – Household Cleaners (Laundry Soap, Trash Bags, Multi-purpose cleaner)
AUGUST & SEPTEMBER – Helper Mixes (Tuna, Chicken, Hamburger)
OCTOBER & NOVEMBER – Canned Meat (Tuna, Chicken)
DECEMBER – Baking Goods ( Flour, Sugar, Cake Mixes)**
**Most Years, Faith collects extra items over the holidays. There are many opportunities for individuals or groups to work in the pantry during this time.
KIDS EAT FREE PROGRAM:
This program provides lunch for children during the summer when many do not have lunch and are left to fend for themselves while their parents work. Approximately 1,500 children receive a sandwich, drink, chips, cookie, and fruit daily. Faith has a coordinator and mission partners to take a site once a week for the summer months.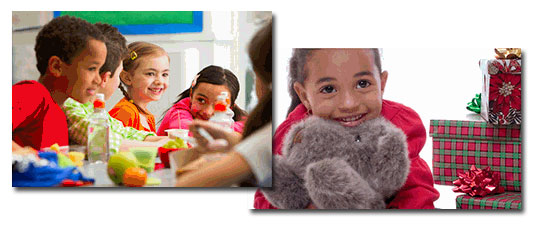 Back to School Program
CCA provides children with a new outfit, backpack, school supplies and shoes to return to school. This traditionally takes place the first week in August. Faith collects items to send to the Back to School Store. You may also sign up to stock or work in the store.
ANGEL TREE/ TOY STORE:
CCA's Christmas Toy Store provides new toys to more than 3,000 children. Faith collects items for middle and high school students during November and December. We focus on this age range, allowing our Day School to collect toys for the younger ones. In addition, there are many mission partner opportunities to work in the toy store.
CCA Needs YOU!
CCA has many volunteer opportunities. To find how you can make a difference by serving others, contact Marcia Gackle, CCA Coordinator at gackles at hotmail.com or sign up to volunteer on the the CCA Website.